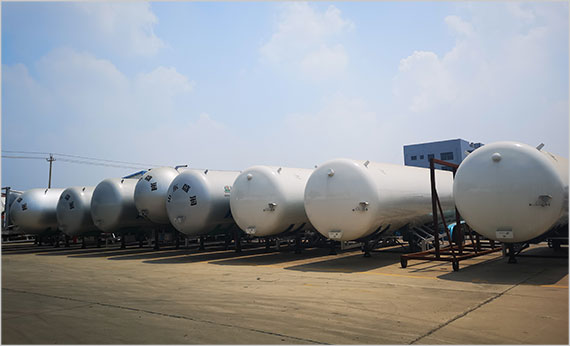 LPG Semi Trailer Tanker
LPG Gas Tanker Truck, is also called LPG Mobile Transport Semi Trailer, LPG storage tank semi trailer or LPG carrier tank trailer, is a type of semi trailer used in road transport where movement is provided with the help of a truck head. LPG truck semi trailer consists of 3 main parts, including tank body, axles and chasis. The number of axles is determined by the volume and load capacity. LPG tanker trailer size and volume can be produced according to the customer's requirement.
Parameters
Capacity: 5.5CBM-70CBM
Type: Cylindrical Horizontal-Semi Trailer Type
Filling medium: Liquefied Petroleum Gas Propane
Design pressure: 17.5 bar
Test pressure: bar
Welding factor: =1
Corrosion: =2
Design temperature: -20℃/50℃
Dished Ends: Ellipsoidal Type
Axles: 2-4 axles according to the volume of the LPG tanker
Accessories: Safety Valve, Level Meter, Thermometer, Pressure Gauge, Emergency Shut-off Valve, Valve Box, Fire Extinguisher, Anti-static Ground Tape, etc.